CO:LAB is welcoming a new entrepreneur to our community business incubator.
Taste of Pensacola is a gifting experience offering unique gift boxes curated from Pensacola designers, bakers and craftspeople. It also is a unique way to connect our local retailers to a market outside our region. Founder Tia Robbins is connecting small businesses that might not have the marketing budget for extensive advertising to a national market.
Like many entrepreneurs, Robbins saw an opportunity at the start of the pandemic when Amazon was struggling to fullfil mask orders, "During the pandemic, I noticed so many local makers and bakers coming out," she said. "When Amazon could not fulfill certain orders like masks, everybody resorted to shopping local."
Robbins saw a definite need for a way to connect local artisans to shoppers. "I have always supported local businesses and I couldn't fathom the thought of talented makers closing shop. I thought, what if I created gift boxes and built an online shop for vendors to sell their goods?"
Robbins tested her concept at pop-up markets during the holidays and eventually launched her first box in August 2021. The Orange Box, or Signature Box was a limited-edition box featuring the wares of seven different local women-owned businesses.
Robbins says CO:LAB Pensacola is helping Taste of Pensacola reach a new level, "I wanted to be in CO:LAB because I wanted to really grow my business. I wanted support, I needed resources. I want to scale it. I want it to grow. I'm going to create the blueprint here and just grow. I really needed some professional advice to take it to the next level."
Always on the lookout for fresh ideas, Robbins finds her makers in all sorts of ways. "I find my vendors on Instagram. I know a lot of small businesses owners here as well. I'm going to markets. All the local markets, that's where I also find my vendors."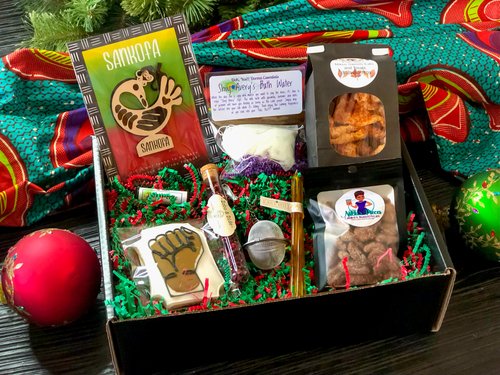 Taste of Pensacola is doing its share to promote our community to the world. When someone opens a carefully curated Taste of Pensacola gift box, they are treated to foods and gifts as unique as our community. "They're excited," Robbins says, "They want to come here and visit. They see the product, they see the brand, and they see how we support our local community here. Pensacola is a vibrant place — as you see my logo is very vibrant, it's full of color, I think it represents Pensacola very well. "
Taste of Pensacola has been great for Pensacola retailers. Since the launch, 100% of their vendors have had increases in social media following and 85% noticed a more than 50% increase in revenue.
If you are a vendor looking to reach a wider market or you want the first look at upcoming boxes,  visit them at tasteofpensacola.com and follow them on Instagram and Facebook.