What has no doubt distinguished the last three years is that they have not been short on stress. CO:LAB Startup Capacity Path has been busy turning "distress into diamonds" by working to build brighter and stronger communities.
Capacity Path is a resilience and capacity-building organization that provides training and consultation for emergency responders and communities affected by catastrophic events.
The partners, trainers, and coaches that partner with the company are highly skilled in disaster trauma crisis intervention. They put it on the line to get in the trenches with survivors and first responders to help communities thrive again.
Operation Pandemic Love: Caring for Isolated Elderly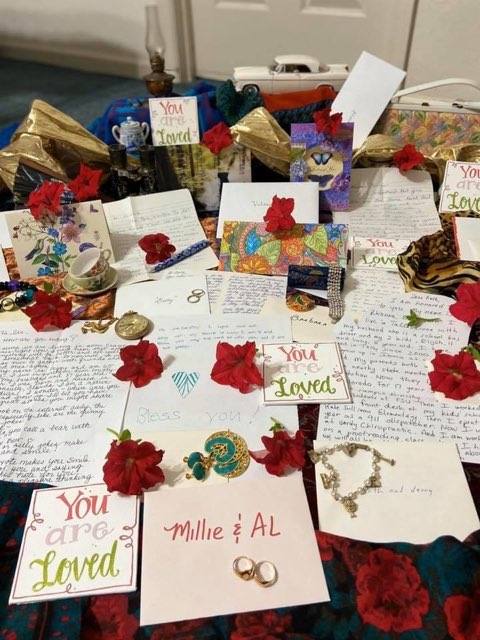 Operation Pandemic Love was a volunteer project during the pandemic. Capacity Path's volunteers wrote letters to the elderly who were isolated in assisted care facilities, and to individuals who had reached out to a hotline for support. "The letters were so beautiful. Some of them were art," said Capacity Path founder, Amie Leigh. "From the crisis cleanup hotline, we were given registries of contact information to support people who said they were feeling isolated. We set it up where volunteers we making and writing cards, and we would ship them out so the folks in distress would spontaneously get a letter from someone they didn't know that might say something like, "hey, wanted to send some care and let you know you're not alone. We are thinking about you from over here in Pensacola, and sending some love and care your way."
Hurricane Sally: Wellness Oasis:
After Hurricane Sally, Capacity Path was invited by Escambia County public safety in FL and to the Baldwin, AL Emergency Operations Center where they provided a pop-up "Wellness Oasis" for the emergency responders. To receive a day of chair massages, and resilience and capacity-building support. "In Baldwin- the worst-hit area from Sally- there were emergency responders who had come from all over Alabama, Florida, and Tennessee on response teams after the storm," Amie said. "They were exhausted, working round the clock. Some stayed in bunk rooms at the EOC while other folks were sore from sleeping on the floor and air mattresses for weeks." Capacity Path collaborated with bodywork professionals from Alabama and with the Florida Massage Therapy Association, panhandle chapter, to send six massage therapists and a chiropractor to provide over a hundred massages for the grateful responders.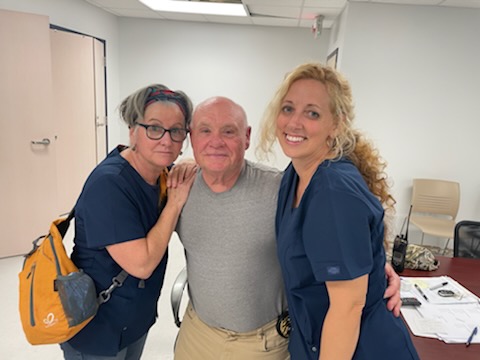 "It's important to us to make a difference for emergency professionals who work around the clock to serve our communities. Most of them don't spend time focusing on themselves or get the relief and respite they need to maintain their endurance. We love bringing wellness into their trenches," said Amie.
War in Ukraine: Distress overseas and Close to home
Capacity Path's response to the Ukraine war relief efforts has been two-fold. While they worked on several different projects in Eastern Europe, they haven't forgotten the trauma that the war has caused domestically. Through their public health service efforts combined with the disaster relief focus, they saw an opportunity to support overseas efforts, but also to help settle anxiety for people closer to home who might feel "activated" by the increased complexity in the world landscape. Reading the paper or watching the news can feel traumatizing after these past few years of worldwide crisis.
To do this, Capacity Path is working with a primary client, a trauma resolution training institute headquartered in Boulder, Colorado to co-create resourcing sessions for people who are experiencing crisis instability at the moment. "These resourcing sessions are rooted in the neuroscience program that we've been developing over the last couple of years that we intend to support peer stabilization for emergency responders," Amie says, "in this case, we've adapted it for people who are providing mental health support for the refugees and for people in the community feeling escalated because of the pressures. The Crisis Stabilization and Safety program, resource sessions specifically, create a foundation of support when it feels like everything is uncertain and folks don't know where to begin to feel just a little bit better, a little less worried, a little bit more supported and safe."
Hurricane Ida: Supporting Rebuilding Community Connections in the Bayou
During Hurricane Ida, the bayou areas south of New Orleans got less media and response attention in the early days right after the storm. Initially supporting relief missions in the worst-hit bayou areas like Golden Meadow, LaRose, and down to Grande Isle, over to Houma and DuLarge, even working with the Houma Nation tribal community – collaborating with LaFourche District Attorney's on-staff therapeutic support teams, Capacity Path and partner SE International sent mobile mental health teams and participated in regional wellness and relief events. "In that region of Louisiana, they're all about being community, deep roots and a lot of strong-willed independence, but in this case, they took a really hard hit" Amie said, "We felt blessed and moved to be able to help bring stabilization and re-connection."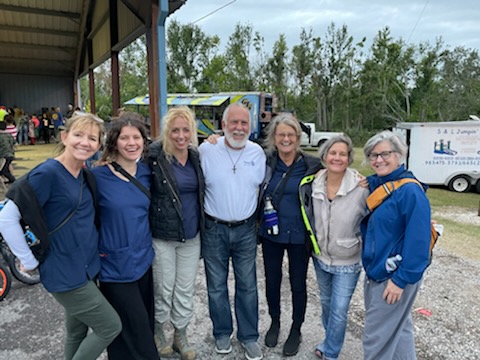 What's Next?
While Capacity Path's crisis intervention and peer support work is being shared throughout the country, and expanding through their partner orgs, their founder is on a speaker circuit speaking at conferences, FEMA, with indigenous communities, public safety agencies, and victim advocacy organizations this summer. Their long-term goal is to expand partnerships locally and bring more resilience resources to the Florida panhandle. "We would love to work more directly here in our own community, with Pensacola hospitals, public health and emergency responders involved with public safety," Amie said, "It's been a very challenging few years for all the different kinds of professions on front lines of community support- they could use some extra tools and relief as well."
Right now, scaling up is their mission, to meet the needs of a world that wants to repair and recover from all the impacts of non-stop crises. Amie says that being in CO:LAB has been an important step in growing the business, "It can be a couple of people with a good idea, but really, we have the capacity and ambition to an apex organization, with an array of dynamic trainers who can make a real difference for communities and professions that need it most."
If you are interested in a workshop, or if you are a public facilitator or trainer, social worker or therapist who works with trauma, or just someone who wants to collaborate, loves running back of the house for growing endeavors, or to volunteer with wellness clinics please take a look at capacitypath.com or email info@capacitypath.com